I was  absolutely thrilled to be a part of the latest issue of Fashion Observer Magazine. We discuss misconceptions about working in the fashion industry & how to survive.
Fashion Designer Lucy Laurita, focusing on her creative edge on re-branding and her collection of new classics. We get an insight on location of her latest photoshoot with LA based photographer Maurice Rinaldi.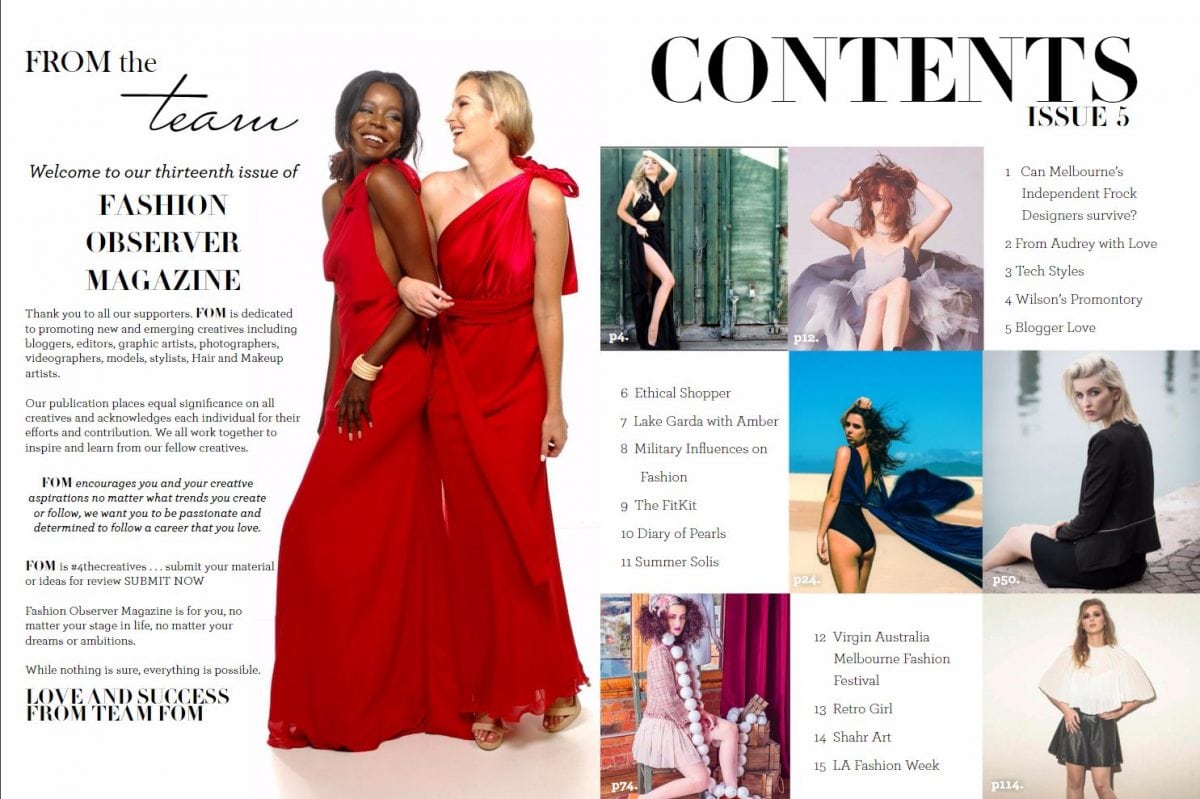 Can Melbourne's Independent frock designers survive?
Apparently I should have, could have and would have made a great accountant – a natural teacher in the making I could hear the soothing thought patterns others had for me – out of -love- out of career vocation, school, in my soup — out of what made plausible sense– the want for my stability – YET – and certainly I don't think it was misguided at all – it just was not where my determined mind and my thirsty creativity was at.
The road has often been amazing, and equally tough. I've had my highs including the Melbourne creative designers, such as myself are what I would call the David's of style.
It does make me smile when I think of some people's perceptions of a life of champagne, red carpets, velvet ropes and frivolity. A world where evaporating air kisses meet with sustainable lipstick and tattooed eyebrows. Where you can't say darling too much, or capsule too little.
But what room is there, for the likes of Lucy Laurita Vs Zara, Myer, Sass & Bide, Chanel, Tiffany & Co, David Jones, Carla Zampatti, or Prada?
Certainly, it makes sense in Manhattan, London & Paris where the population can support so much. However, when the world arrived in Australia, our fashion has taken a giant competitive leap forward requiring a giant leap forward of faith, tenacity to remain buoyant in what we do.
I pen this in the spirit of David Lawrence and Collete Dinnigan, and others that I find provides my insight, my passion, my love.
Here are my 10 tips to remain sane, cash flow liquid, creative and still be here next year.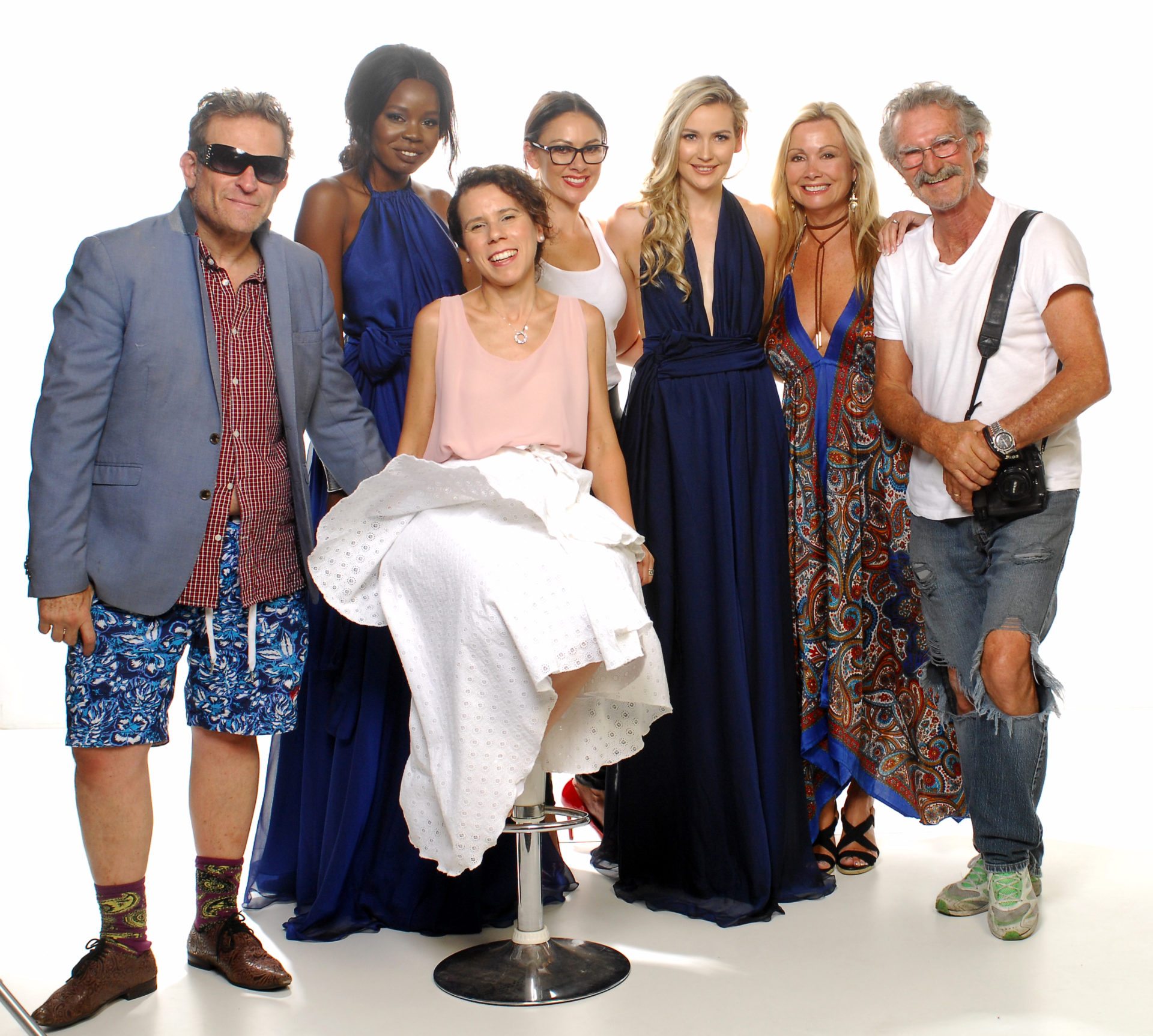 From left: Henry Weinreich Roth, Nyadier Apech, Alarna Bell, Jessica Parish, Celeste Billinge, Maurice Rinaldi  & front Lucy Laurita.
My Network
First and foremost for me that's family. I am adamant that you need close support as running any small business can at times be very isolating and lonely. I am blessed to have a supportive husband and two beautiful children that light up my life with happiness which is a reflection in my work.
My Business Network
Collaborations with like-minded creative's is the mosts efficient way to lift your brand's profile. For most of us, this has not happened overnight. For me, it has been years of hard work and word of mouth that has connected me and my brand to the most wonderful creative talent in the Australian fashion industry.
Personal branding
Align yourself with your brand! Designers are shy by nature. I was running around in circles for years. I had tried various mentors but felt they did not understand me, I struggled to connect with business mentors. My light at the end of this cycle has been personal branding authority, Henry Weinreich Roth. You may know him as the mentor from Project Runway Australia. He now runs his own Melbourne based branding company. He has taken me right back to my beginnings, to find myself and where my strengths are and taught me that it is possible to create a sustainable balance.
Tenacity
Determined. Never give up. Focus on your market, there is room for niche. Surround yourself with positive people that support your vision.
Projections & Budgets
Plan ahead, do not overspend on stock, grow organically. Over stocking of fabrics, trims packaging is very risky. Set short payment terms with buyers and understand their buying patterns.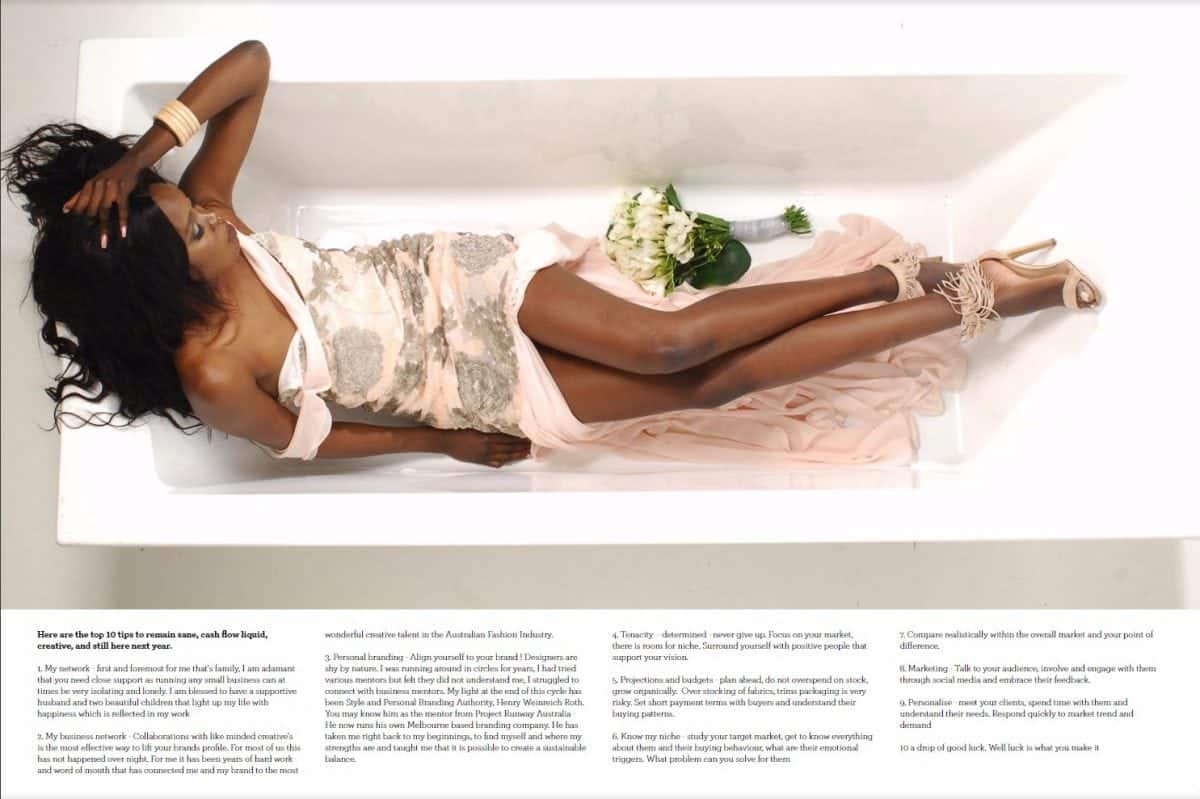 Know my niche
Study your target market, get to know everything about them and their buying behaviour, what are their emotional triggers. What problems can you solve for them.
Find your point of difference
Compare realistically within the overall market and your point of difference.
Marketing
Talk to your audience, involve and engage with them through social media and embrace their feedback.
Personalise
Meet your clients, spend time with them and understand their needs. Respond quickly to market trend and demand.
Luck
A drop of good luck. Well luck is what you make it!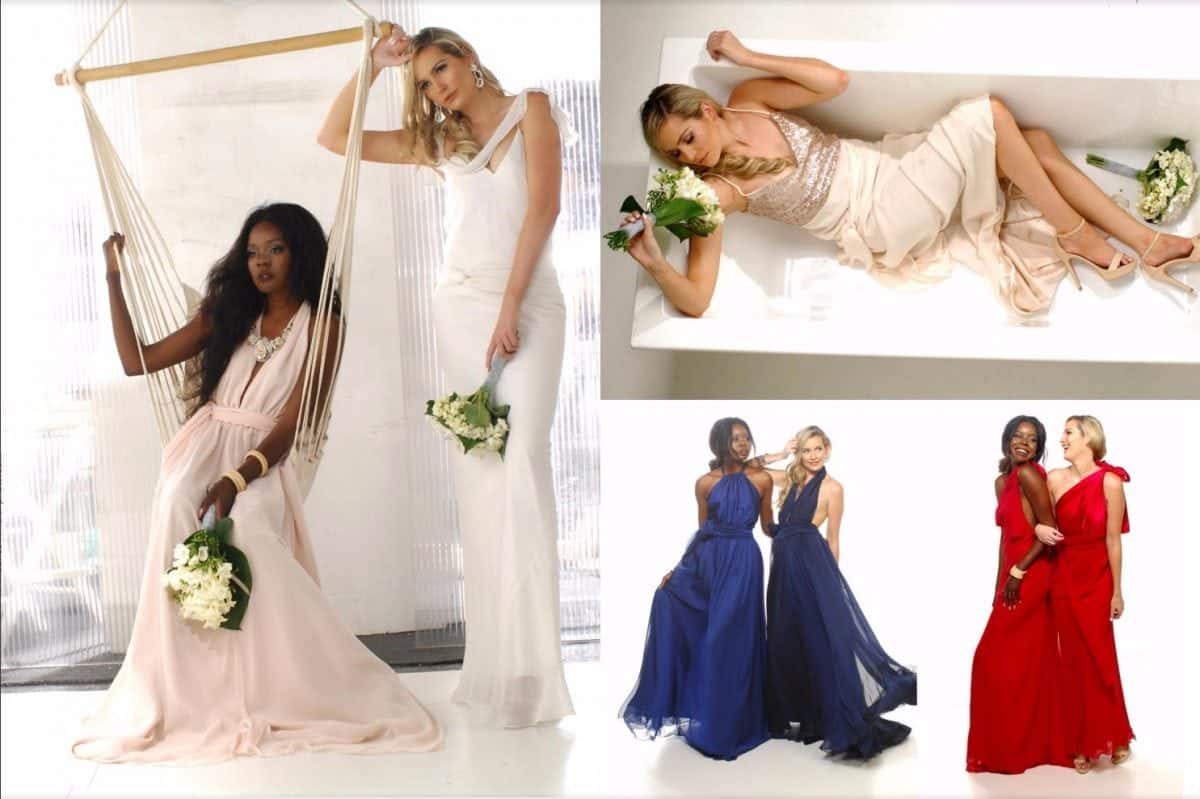 Interview with celebrity & fashion photographer; Maurice Rinaldi