Custom Designed White Dresses Inspired By Romance
On Trend, contemporary collection of white dresses perfect for a fairy tale wedding…
The perfect dress will always speak to you and will announce itself the moment you gaze your eyes on it. Experience the spark of joy when you first meet your mesmerizing wedding dress. Every gown has a story to tell, this tale involves one of the greatest moments in life. Allow your dress to narrate your journey on your wedding day.
Whether you are aiming for a romantic, elegant, bohemian, charming, majestic or extravagant wedding gown.
Lucy Laurita has you covered. Featuring a chic design for everyone, from marvellous plunging V-Neck gowns to sheath backless styles. Mermaid fishtail silhouettes to gowns that cascade gracefully down to the floor.
Lucy Laurita gowns are perfect for destination weddings, beach weddings, swanky ballroom venues, fairy-tale extravagant wedding affairs or an intimate exchange of vows in front of your loved ones.
All designs can be ordered in a wide range of fabrics and colours. Please send contact me, so we can help customize the perfect gown for your momentous occasion.
Alida dress
Shell georgette
This bold sleeveless halter neck dress makes a statement. Featuring a backless cut that is sensual and the epitome of sophistication. The captivating dress cascades down to your feet. This exquisite wedding dress is perfect for fashion-forward brides who want to feel amazing. The plunge halter neck adds a dash of sensuality while its flowing skirt is enough to turn you into a bonafide princess.
BUY NOW
Anais gown
Lemon georgette
A charming sleeveless gown that is guaranteed to add magic to your night. This floor-length dress features a beautiful drape, a backless cut, and thin straps with a deep neckline. The form-fitting dress fits perfectly in all the right places, creating an enchanting ensemble perfect for the most important day in your life.
BUY NOW
Bella
Wrap and slip set, Ivory silk crepe de chine
An alluring dress that is destined to win over hearts. The premium Silk crepe de chine fabric is luxuriously elegant and lightweight. The dress feels like heaven draped around your body, featuring a sheer blouse that drapes down exquisitely to your knees. The sumptuous dress is opulence personified; a trendy, easy to wear dress suitable for all sizes.
BUY NOW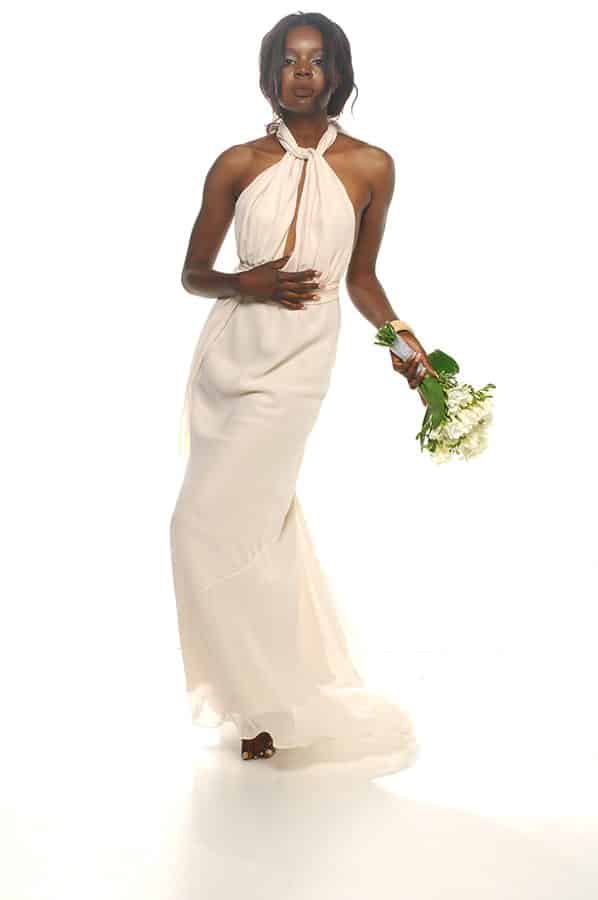 Cameo dress
Pollen georgette multi-tie
The majestic backless halter neck with a slit cut front is a vision to behold. This sleeveless gown is sophisticated and falls gracefully to the floor. Its waistline features a soft fabric tie that helps add a polished complete look. The dress is the embodiment of grace and perfect for your wedding ceremony. Imagine your runway bride styled outdoor beach wedding.
BUY NOW
Cecilia paloma
Sequin bodice with pollen georgette
Looking for a dress that exudes both glamour and elegance? This sequin bodice with a georgette mermaid skirt creates a dazzling silhouette to suit all special occasions. A stunning gown that will add spark to your life. Featuring a V neckline with dainty rouleau straps, the georgette fabric is lightweight, breathable and drapes down beautifully to the hemline.
BUY NOW
Harlow gown
Pearl bodice with white chiffon
An elegant sleeveless high neck chiffon gown with a beautiful floral pattern front. The mesmerizing gown gently flows down to the floor and features an attractive backless cut that adds a touch of enchantment. An exquisite dress that is sophistication personified while the flowing skirt adds that romantic flare. The quintessential wedding dress perfect for brides looking for something special.
BUY NOW
Ivory
Silk slip
This sleeveless silk slip with a plunging V-neckline and thin shoulder straps is the essence of extravagance and class. The luxurious silk slip compliments your body and is perfect for a sleek silhouette. Breathable and velvety soft, this can be used as nightwear or worn under sheer dresses.
Rhiannah gown
Floral sequin with shell georgette
This figure-hugging dress, with a subtle flounce neckline, is perfect for an evening soiree or a wedding party. The flared skirt with a slit allows you to be sensual while flaunting a graceful aura. Its shell georgette fabric is light, fluid, versatile and decorated with a vibrant floral print. The sleeveless dress features spaghetti straps and a full-length skirt.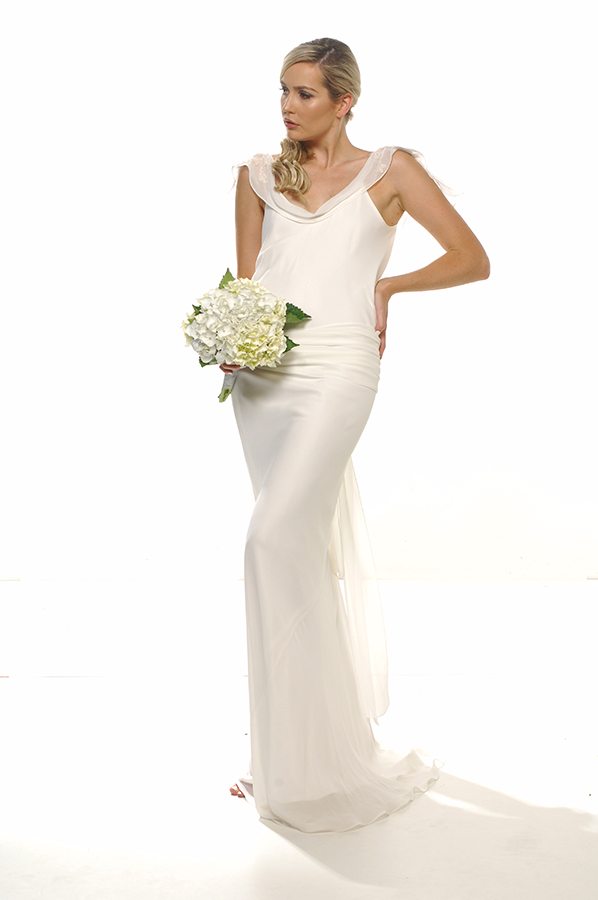 Ivory Georgette With Applique
The gorgeous sleeveless bridal dress is a stunning modern take on wedding dresses. The long georgette bias cut gown accentuates your feminine features, capturing the limelight. The backless cut adds a touch of splendour and grandeur. The lightweight and sheer fabric help make the outfit comfortable, while the elaborately hand detailed embroidery and V-neck with sheer flutter completes the look, adding a touch of grace to the gown.
Taneel dress
Ivory sequin swirl with ivory georgette
The glittering high neck gown features a beautiful drape and an exquisite sequin overtop blouse with spaghetti straps. The sleeveless elegant and chic georgette dress is completed with an alluring fishtail skirt that falls to the ground. The perfect ensemble for a beach wedding, the gown astonishes crowds with its timeless classic aesthetics.
BUY NOW
You deserve to feel extraordinary on your wedding day.
These modern dress designs by Lucy Laurita are perfect for wedding ceremonies and receptions and will leave you wanting more. Enhance your enchanting wedding with a gown that symbolizes the epitome of grace and elegance.
The elegant and chic gowns are purely majestic and are assured to spellbind your guests with their awe-inspiring cut. Incorporating illustrious finishing, lavish styles, and redefine luxury while retaining comfort for the bride.
Our gowns have the charm and classic timeless Australian aesthetics to ensure your day is truly special.